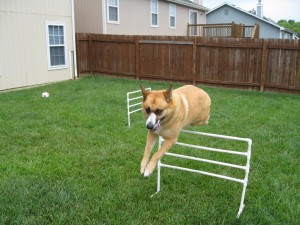 Dogs require both physical and mental exercise to be balanced and stress-free.  The physical exercise part is easy, and hopefully a part of all our lives and our dogs – for the good of us all!  Walks, playing fetch, you and your dog taking a jog around the neighborhood, and swimming.  Agility courses also provide great exercise and bonding for human and canine alike!  Always check with your vet, before starting any strenuous exercise program with your dog, to make sure there are no physical limitations or health issues, and probably a good idea to also check with your human doctor if you plan to start any new exercise program!
Above all, whatever you choose to do with your dog, it should be FUN!  If on walks, for instance, your dog constantly pulls on his leash and takes YOU for a walk, or you're afraid to walk where you may meet other dogs, people, squirrels, cats, rabbits or any other type of distraction, then you already know where I'm going with this and the importance of mental exercise!
Mental exercise through obedience training and a "Nothing in Life is Free" approach to life with your dog establishes balance and a stress-free existence for both human and dog.  By teaching your dog the basics, such as, Sit, Come, Down and Heel, and practicing these with your dog on a consistent and daily basis, you will challenge your dog to think what he can do for you in order to earn that walk, run, game of fetch or tug, or go for a swim.  Through a combination of both physical and mental "workouts", you establish leadership in a stress-free and a confidence-building environment for both you and your best friend!
Enjoy Your Dog!!