Client Testimonials
I had forgotten how to train a puppy when Alfie, at 4 months, entered our lives in April.  He grew fast and more "independent" of human direction daily.  Walks outside the fenced yard were ordeals for me.  I feared that he would be uncontrollable for people in their 70s and we would have to give him up.  We met Greg Lyon at the Lawrence Animal Fair November 8 and he came to the house 3 days later.  He conveyed a sense of calm and confidence.  The 3 home lessons were more successful than I could have imagined.  The first 3 group lessons have strengthened our ability to work together as person and dog and are socializing Alfie so he can be with other dogs and people.  We make progress with each class and look forward to the next one.  We also look forward to Greg's help in the future with our senior dog who was rescued several years ago from an abusive setting and has not overcome his fear/aggressive behavior.  We believe Greg will provide the answer to a better life, not dominated by fear, for this dog.
Mary Wallace…Lawrence, KS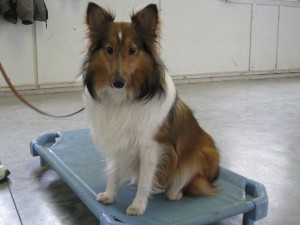 Greg is so professional and really wants Hank to respond.  Hank, a three year old schanuzer who had no previous discipline, has improved tremendously but still has a ways to go.  Hank and I both learned so much from Greg's one-on-one visits and we both are enjoying the group classes each week.  Thanks!
May Gorton…Baldwin City, KS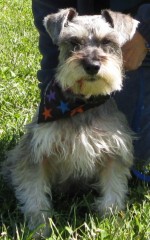 With 2 small kids and lots of their friends coming to the house I was getting more nervous about our eager to greet Shiba Inu – Ripley.  She loves visitors and wants to jump up and lick them, but not everyone likes that greeting – especially small kids and those without dogs.  She's also dog aggressive, and tends to go nuts when there's a dog in sight, and is even faster on the hunt with bunnies or squirrels (she's broke away from the kids a few times when they walk her).  If another dog comes in our yard, they better beware.  Unfortunately with my busy work and family schedules, and my fear of taking Ripley to a dog obedience class because of what may happen, we just worked with her some on our own with the choke chain approach to try and teach her a few manners and maintain control with little success over the past 7 years.  After our first lesson with Greg – at our house which was awesome – I saw immediate results.  She started picking up on the commands quickly and has greatly calmed down.  She no longer jumps and mouths greetings when friends come over, and by the 3rd lesson Ripley was walking down our street, off-leash with the neighbors out and about, and then walked next to, and around Greg's dog Lahna while remaining focused on me the whole time!  Not even showing interest in the dog right next to her.  I'm still amazed at how easy the system is, how quick she picked up on the commands and how focused she stays on me.  We are looking forward to our first group lesson as the kids want her to learn some of the cool tricks that Lahna demonstrated!  Thanks for the fun lessons and peace of mind Greg!
Deb and Ripley…Shawnee, KS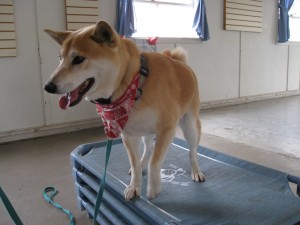 We have an energetic red heeler pup who has lots of energy and was hard to train to focus on commands.  Before we started training with Greg, she would tug on the leash, lunge at passing cars and have a fit if another dog was around.  Taking her for a walk was a chore and not fun for any of us.  After 3 sessions with Greg, she had learned to focus and would follow our commands.  She no longer has the urge to tug on the leash, chase cars and she sits calmly when other dogs are present.  Honestly, we did not expect as much progress from just three sessions, but with Greg's methods and just a little work each day with our dog, she has calmed down and is a pleasure to take with us where ever we go.  We highly recommend Greg and Mutts and Manners!  Oh, and we now go to the dog park and can let her off leash and feel confident that she will not run off or be a menace to other people and dogs.
Melodie and Corey…Lawrence, KS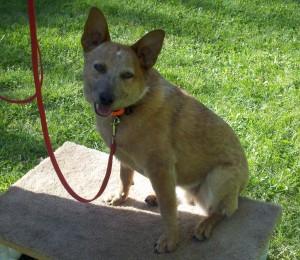 Kay and I are pleased to reply with a ringing endorsement of your Mutts and Manners course.  Belle (our 18-month old Golden) has experienced considerable improvement in her behavior as a result of your very professionally administered training course.  She is much calmer and subdued, especially when we have guests visit the house.  Thanks very much for helping us to a better behaved dog.
Kay and Paul…Leawood, KS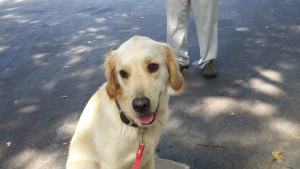 Our dog, Hunter, had always been energetic, but began to behave aggressively towards neighbors/visitors at times.  I was worried that we might not be able to keep him.  We contacted Greg and he visited us a few days later.  The training has helped us tremendously.  I feel much more confident when we take Hunter out in the neighborhood that he will behave and listen to us. Greg does a good job of training the humans in the family as well as the dog.  I have recommended Mutts and Manners to my friends.
Marni and Hunter…Overbrook, KS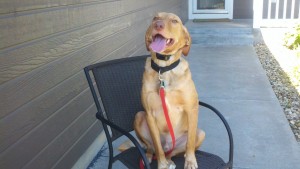 Mutts and Manners have given us the tools to work effectively with our dog Kobe.  We are grateful for the education and look forward to many years of fun with him.  And yes, now he comes when we call him and much more.  
Kathy and Kobe…Lawrence, KS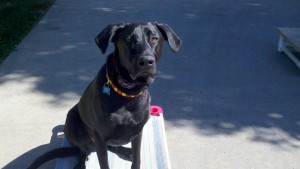 Training with Greg Lyon with Mutts and Manners has been a productive and positive experience for us and our rescue dog that is dog reactive.  We are protective of our dog, especially because of the neglectful environment she came from, and so had questions about training with a remote collar.  We learned that the collar is not harmful at all.  Greg's training with the collar is all about it being used as a guide and NOT discipline.  We saw immediate results with our dog following basic commands.  The group dog trainings are an excellent opportunity for ongoing consultation, learning and play.  Even though our dog continues to struggle with fear of other dogs and is reactive, Greg incorporates strategies for her to work towards positive interactions with the other dogs in the group trainings.  It's amazing how we have made it to the point of our dog sitting just a few feet away from the other dogs and not reacting.  Our dog is making progress that we initially didn't imagine was possible.  We still have a ways to go but our dog loves the training and is a much happier dog because of this training.  By the way, Greg's calm demeanor and approach in the training has been reassuring for us to know that we can provide the right structure to meet our dogs' needs.  Thanks Greg!
Lyle and Stacy…Lawrence,KS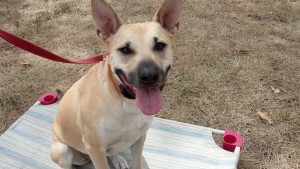 Greg worked with us and our 1-year old border collie/whippet mix who we adopted from the Lawrence Humane Society.  Within the first training session, Bella was responding to the e-collar, and she continued to progress through every session.  Bella is a much calmer dog now, a pleasure to walk, and with very few negative behavior episodes–all within only four weeks.  The e-collar helps us communicate our expectations to Bella in a positive, consistent way. We have been very pleased and are happy to recommend Greg and Mutts and Manners to all dog owners.
Mary and Mel Baskett