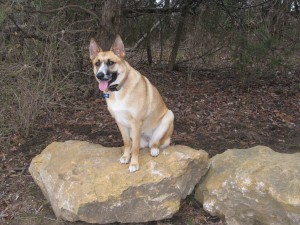 Consistency is a major part of successful dog training.  Consistency in training accomplishes three important points:
YOU establish who is in control, and it should be YOU.
Your dog will feel more comfortable and secure in knowing what's expected.
Your dog will know the difference between acceptable and unacceptable behaviors.
Dogs are creatures of habit and are very routine-oriented.  The more routine your training schedule is, the easier it becomes for your dog to learn and continue learning.  Try to work with your dog every day.  Walks are a great time to work on your training.  Distractions are everywhere.  People, other dogs, children playing, squirrels and rabbits all serve to create an ideal proving ground for your handler skills.
ALWAYS EXPECT THE CORRECT RESPONSE TO A COMMAND…After your dog learns the correct behavior to a command, and you give him that command, he should do it!  If you let the dog get away with ignoring a command once, he will use that new-found loophole from that time forward!  One easy rule to keep in mind for your dog is "You Have To".
BE CONSISTENT IN YOUR USE OF VERBAL COMMANDS…Always use the same word for a certain command – every time.  One day don't say "Come" and the next day say "Come Here".
THE POWER OF PRAISE…Praised Behavior results in Repeated Behavior.  When your dog listens and responds to your command, reward him!  A touch, verbal praise (in a light, excited tone) or a release command all can serve as a reward to your dog.
REPETITION REINFORCES…Work with your dog everyday, even if it's only for a short period of time.  It's better to have ten minute sessions of training work daily than none at all.  This will help you become a better trainer, too!
BE PATIENT…A dog can't be trained in a day!  Behavior is changed and molded over time.  Patience, Consistency, and Repetition will give you the behavior you want to achieve.  Don't yell, don't get frustrated and above all, don't give up!