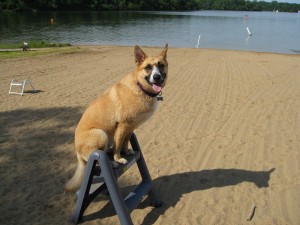 Remote Collar Training
The modern remote training collar is a fantastic tool for dog training!  In skilled hands, it can open up a whole new world of understanding to the average dog.  We spend time teaching the dog the "language" of the collar, so when the verbal commands are combined with the collar "tap", it creates an immediate and more lasting impression in the dog's mind.  Much the same way we would convey a point to our children with a tap on the shoulder to gain their attention.  With the remote collar, we are able to put emphasis on the most important words we are communicating to our dogs.
Remote collar training is, by far, the most humane and effective method in use today.  Combined with the natural food drive, ball or toy drive of the dog creates a winning combination for immediate success.  People are sometimes uncomfortable with the idea of the remote electronic collar.  When they can actually feel the level, in their own hands that I use every day during training, they are immediately put at ease, every time!
"Will my dog have to wear his remote collar forever?"
This mostly depends on you as the dogs's owner and trainer.  We will teach you and your dog the required skills and training techniques.  A strong commitment from you to practice between each lesson session is required for success.   I typically always have the collar on my dog when I'm out in public because she is usually off leash.  The collar becomes a wireless leash.  My dog has her freedom, but I am able to reach out and touch her at any time and at any distance.  Lets face it…Dogs will be dogs!  Even though we do have off leash reliability around home, we don't have control over our environment – squirrels, rabbits, cats, other dogs or cars.  We all love our dogs and want to keep them safe and secure.